NSAIDs
It is also called ANTIPYRETIC-ANALGESICS or NSAIDs. NSAIDs are frequently used to treat pain, to reduce inflammation, and lower fever. They function by preventing the body from producing prostaglandins. Prostaglandinsare substances that contribute to inflammation and discomfort.
Aspirin, ibuprofen, and naproxen are a few examples of NSAIDs. These drugs are very commonly used. Many medications can be bought without a prescription.
NSAIDs can have negative effects, while being generally safe and efficient when used as recommended. Some individuals may feel queasy, nauseous, or vomit. The risk of stomach bleeding, kidney damage, and cardiac issues can all rise with prolonged NSAID use.
Follow the recommended dosage and consult your doctor if you have any questions or pre-existing medical conditions that you think may be affected by NSAIDs.
USES
The main purposes of NSAIDs are to treat pain, lessen inflammation, and lower fever. They are used to treat a number of conditions.
migraines and headaches
Arthritis (includes osteoarthritis and rheumatoid arthritis)
Period cramps
joint and muscle ache
tooth ache
pain following surgery
fever and other cold or flu-related symptoms
Depending on the particular medication and disease being treated, NSAIDs are given in a variety of strengths and dosages. It can be easily with or without a prescription. Follow the dosage recommendations and consult your doctor if any complications arises
CLASSIFICATION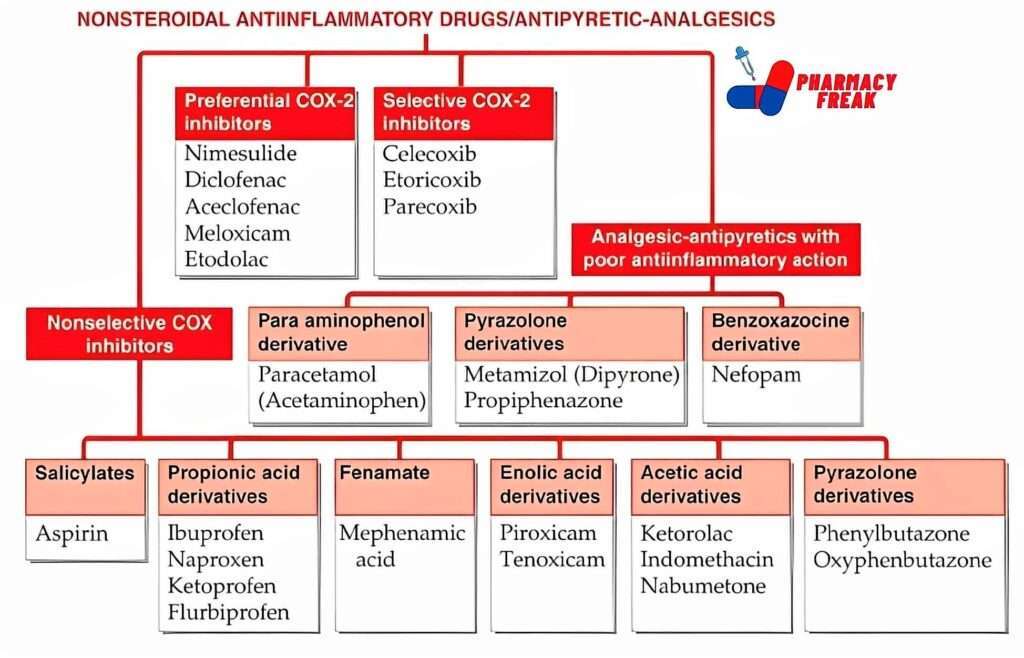 NONSTEROIDAL ANTIINFLAMMATORY DRUGS/ANTIPYRETIC-ANALGESICS
Nonselective COX inhibitors

Salicylates-Aspirin
Propionic acid derivatives-Ibuprofen, Naproxen, Ketoprofen, Flurbiprofen
Fenamate-Mephenamic acid
Enolic acid derivatives-Piroxicam, Tenoxicam
Acetic acid derivatives-Ketorolac, Indomethacin, Nabumetone
Pyrazolone derivatives-Phenylbutazone, Oxyphenbutazone

Preferential COX-2 inhibitors– Nimesulide, Diclofenac, Aceclofenac, Meloxicam, Etodolac
Selective COX-2 inhibitors– Celecoxib, Etoricoxib, Parecoxib
Analgesic-antipyretics with poor antiinflammatory action

Para aminophenol derivative-Paracetamol (Acetaminophen)
Pyrazolone derivatives– Metamizol (Dipyrone), Propiphenazone
Benzoxazocine derivative– Nefopam
Related Links
Reference