MIGRAINE
Migraine is a neurological disorder characterised by recurrent headaches ranging in intensity from mild to severe. Migraine headaches are characterised by throbbing pain on one side of the head, but they can affect both sides. Other symptoms include light, sound, and smell sensitivity, nausea, and vomiting.
Changes in the brainstem and its interactions with the trigeminal nerve, a major pain pathway, are thought to cause migraines. Stress, changes in sleep patterns, certain foods and drinks, hormonal changes in women, and environmental factors are all migraine triggers.
Over-the-counter pain relievers, prescription medications such as triptans, anti-nausea drugs, and preventive medications are all options for migraine treatment. Lifestyle changes, such as avoiding triggers and managing stress, can also aid in migraine prevention. Individuals suffering from migraines must collaborate with their healthcare providers to develop a personalised treatment plan.
CLASSIFICATION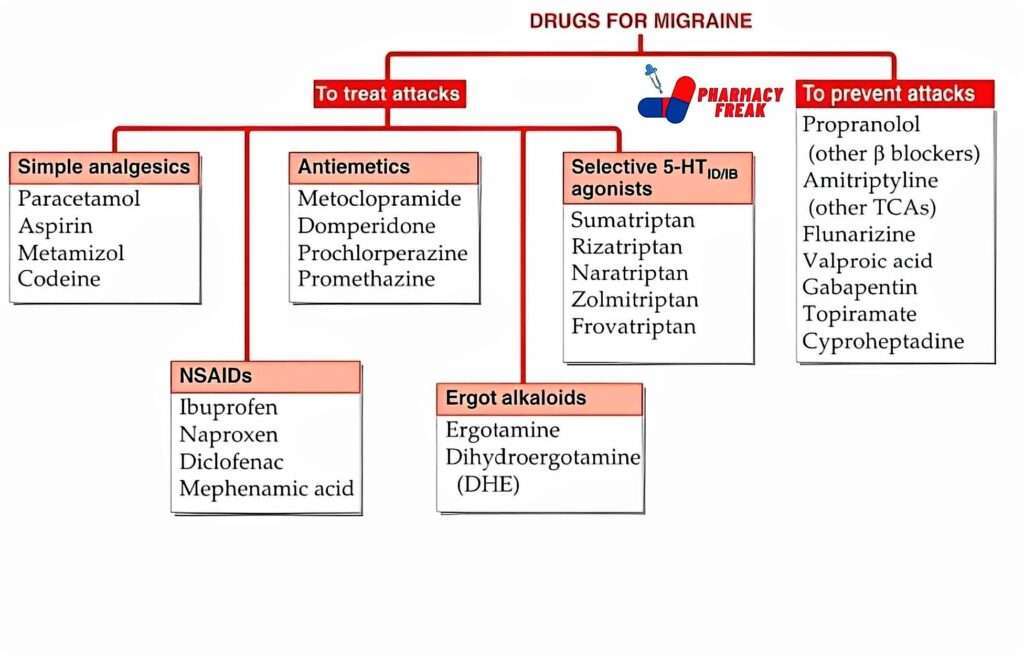 DRUGS FOR MIGRAINE
To treat attacks

Simple analgesics– Paracetamol, Aspirin, Metamizol, Codeine
NSAIDS– Ibuprofen, Naproxen, Diclofenac, Mephenamic acid
Antiemetics– Metoclopramide, Domperidone, Prochlorperazine, Promethazine
Ergot alkaloids– Ergotamine, Dihydroergotamine (DHE)
Selective 5-HT ID/IB– Naratriptan, Zolmitriptan, Frovatriptan, Sumatriptan, Rizatriptan

To prevent attacks-Cyproheptadine, Gabapentin, Topiramate, Valproic acid, Amitriptyline (other TCAs), Flunarizine, Propranolol (other ẞ blockers).
Related Links
Reference
CLASSIFICATION OF DRUGS- KD Tripathi
National Library Of Medicine- Migraine Medications ( Charles Lew, Sheena Punnapuzha. )