DRUGS FOR COUGH
The best of cough medicine for you will depend on the type of cough you have and any underlying medical concerns you might have. There are various different types of cough medicines available.
Cough suppressants: By preventing your cough reflex from activating, these medications can help you cough less frequently and more mildly. They are frequently employed to treat dry coughs that don't produce any mucus. Dextromethorphan and codeine are two typical cough suppressants.
Expectorants: These medications help you cough up more easily by thinning the mucus in your airways. They are frequently applied to wet coughs that are heavily mucus-producing. Guaifenesin and bromhexine are two typical expectorants.
Combined cough medications: These medications, which are frequently used for coughs with both dry and wet components, combine expectorants and cough suppressants.
Before taking any cough medication you should always take advice of a pharmacist or a doctor because some cough drugs may have side effects or may interact with some other drugs which you are already taking. If you cough is severe or chronic and with that you are feeling other difficulties you should contact your doctor.
Classification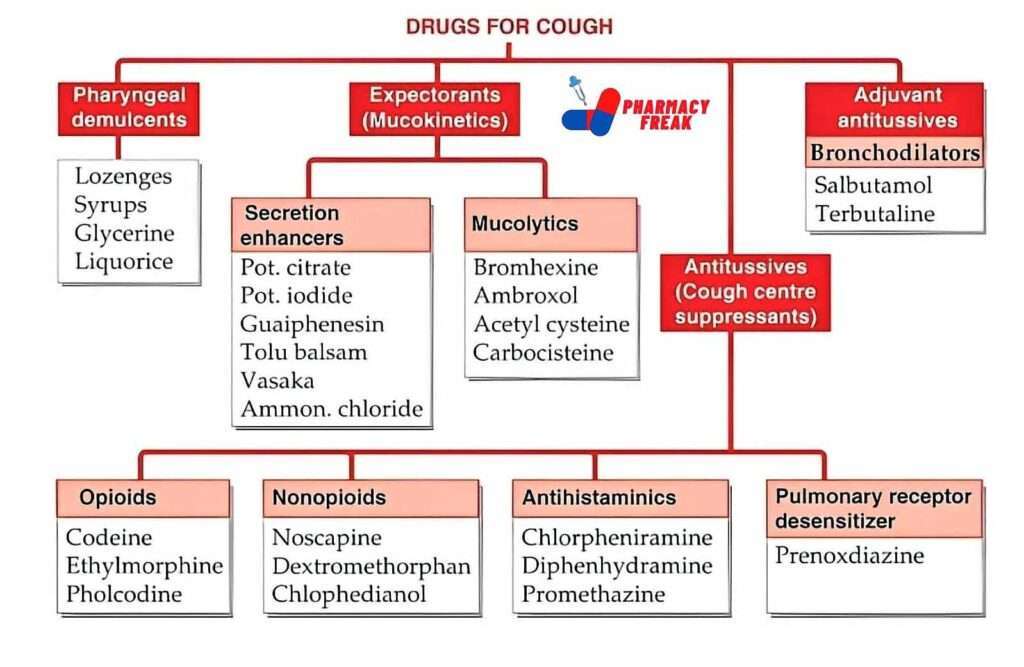 DRUGS FOR COUGH
Pharyngeal demulcents – Lozenges, Syrups, Glycerine, Liquorice
Expectorants (Mucokinetics)

Secretion enhancers – Pot. citrate, Pot. iodide, Guaiphenesin, Tolu balsam, Vasaka, Ammon. chloride
Mucolytics – Bromhexine, Ambroxol, Acetyl cysteine, Carbocisteine

Antitussives (Cough centre suppressants)

Opioids – Codeine, Ethylmorphine, Pholcodine
Nonopioids – Noscapine, Dextromethorphan, Chlophedianol
Antihistaminics – Chlorpheniramine, Diphenhydramine, Promethazine
Pulmonary receptor desensitizer – Prenoxdiazine

Adjuvant antitussives (Bronchodilators)– Salbutamol, Terbutaline
Related
Reference