Community pharmacy (drug store) deals with compounding, counseling, and dispensing of drugs to patients. The above responsibilities are dealt with with care, accuracy, and legality. Community pharmacy also involves proper procurement, storage, dispensing, and documentation of medicines. The community pharmacist is a qualified and pertinent professional having good knowledge, skills, and competence to deliver service to the community.
A community pharmacist should:
1) Have a good understanding of pharmaceutical care, pharmacotherapy, and health promotion strategies.
2) Have good skills in communication with patients and healthcare providers
3) Maintain high standards concerning products, services, and communication
4) Document everything in order.
To define community pharmacy broadly, all the privately owned establishments whose function is to serve the needs of societies for both drug products and pharmaceutical services should be included. Community pharmacy is a branch of pharmacy that deals with varied areas of patient care, drug dispensing, and advising patients on the safe and rational use of drugs.
The organizational structure of a retail store will vary with the size and type of the business. Most tasks involved with operating a retail business will be the same. However, small or independent retail stores may combine many sectors under one division. In contrast, larger stores create various divisions for each particular function along with many layers of management. For example, a small shop of any particular goods or products may have all of its employees under one category called store operations.
Types and Design of Drug Stores
A modern drug store complies with the requirements of schedule "N" of Drug and Cosmetics Rules. A drug store establishment needs a minimum of 150 sq. feet area, whereas a wholesale drug store requires a minimum of 200 sq. feet.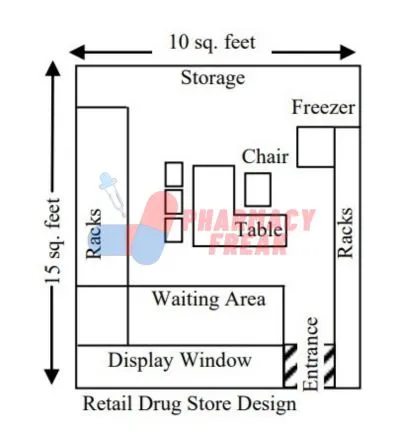 The types and designs of drug stores are:
1) Pharmaceutical Centre: This center keeps the medicine mostly of prescription type along with convenience goods and orthopedic and surgical applications. The store is well decorated with a good atmosphere and uncluttered (not in use) floor space is the hallmark of the pharmaceutical center. A separate room for orthopedic and surgical appliances is provided.
2) Prescription-Oriented Drug Store and Design: A comfortable waiting area should be provided. Health-related items, including drugs, home-healthcare appliances and supplies, and prescription accessories should be displayed near the vicinity. Separate rooms should be provided for orthopedic and surgical appliances. Cosmetics should be displayed in another area of the drugstore.
3) Traditional Drug Store and Design: The major objective is to disperse customers and expose them to all areas of the drug store. A drug store having a pleasing appearance, professional atmosphere, and convenience for employees and customers provides an opportunity for maximum sale at minimum expense. Surveillance for shoplifters should be considered as a major objective.
4) Super Drug Store and Design: The store should have a square design of 5,000 – 10,000 sq. ft. Traffic control is a major objective rather than traffic dispersal design, which is in self-service style and all the items one can get in such drug store. Maximum sale at minimum cost is achieved.
5) Personal Service Drug Stores: In this type of design, the whole area is not exposed to the customer but the customer is required to interact with the drug store personnel at the service counter. During the purchasing process, the customer demands an article and the personnel provides it. This service and design facilitate maximum interaction between the drug store employee and the customers. The success of such a drug store depends upon the convenience and friendly service of the personnel at the service counter.
Related Links